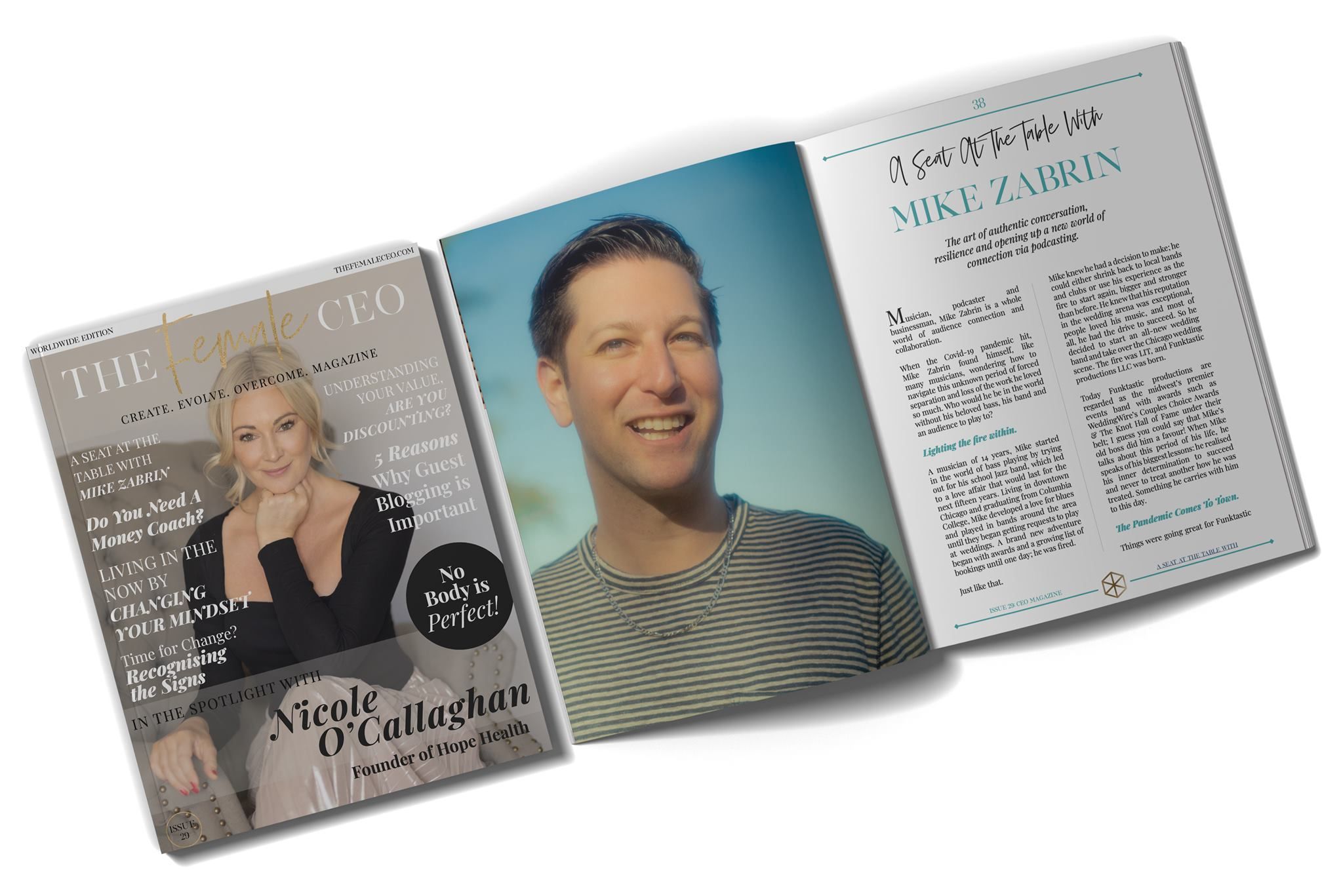 A SEAT AT THE TABLE WITH MIKE ZABRIN 
The art of authentic conversation, resilience and opening up a new world of connection via podcasting.
By Tricia Scott 
Musician, podcaster and businessman, Mike Zabrin is a whole world of audience connection and collaboration. 
When the Covid-19 pandemic hit, Mike Zabrin found himself, like many musicians, wondering how to navigate this unknown period of forced separation and loss of the work he loved so much. Who would he be in the world without his beloved bass, his band and an audience to play to?
LIGHTING THE FIRE WITHIN 
A musician of 14 years, Mike started in the world of bass playing by trying out for his school Jazz band, which led to a love affair that would last for the next fifteen years. Living in downtown Chicago and graduating from Columbia College, Mike developed a love for blues and played in bands around the area until they began getting requests to play at weddings. A brand new adventure began with awards and a growing list of bookings until one day; he was fired. 
Just like that. 
Mike knew he had a decision to make; he could either shrink back to local bands and clubs or use his experience as the fire to start again, bigger and stronger than before. He knew that his reputation in the wedding arena was exceptional, people loved his music, and most of all, he had the drive to succeed. So he decided to start an all-new wedding band and take over the Chicago wedding scene. The fire was LIT, and Funktastic productions LLC was born. 
Today Funktastic productions are regarded as the midwest's premier events band with awards such as WeddingWire's Couples Choice Awards & The Knot Hall of Fame under their belt; I guess you could say that Mike's old boss did him a favour! When Mike talks about this period of his life, he speaks of his biggest lessons: he realised his inner determination to succeed and never to treat another how he was treated. Something he carries with him to this day. 
THE PANDEMIC COMES TO TOWN 
Things were going great for Funktastic Productions LLC; they were loved, respected, requested and booked out months in advance, that is until the day the world shut down. Everything was canceled; all bookings, events, parties, you name it, it was off. Mike knew he had reached another pivoting point in his career, and no stranger to resilience, he got to work on looking for another way to fill his time if he couldn't play. 
Mike started with what he knew for sure. He couldn't sit in his emails all day; that would drive him crazy. But, on the other hand, Mike also knew that he needed connection and stimulation; who knew how long this pandemic would last? So he started looking at his interests. What did he love that he didn't have time for before when he was busy all the time? 
Over the years, being at the helm of the midwest's premier events band, he had to learn about running a business. It wasn't enough to love the music; he had people to take care of and events to manage all across Chicago and beyond, but what if this period could give him the edge? What if being away from the live band life for some time could give him the tools and knowledge to take the business end of Funktastic Productions LLC to another level? He decided to look for a way to combine learning new business skills with the connection and stimulation he was missing. He came up with the perfect solution; he started a podcast interviewing creatives and people in the business world about their experiences! READ THE FULL ARTICLE